Ratnam Pen Industry – Rajahmundry
The first fountain pen was made in India in 1932 – Still Going on (History over a thousand months), Ball pens have arrived now. But in the late 19th and early 20th centuries Ink Pens were only Used. The first to create them was Ratnam Pens – KV Ratnam (Kosuri Venkata Ratnam) Garu . Kv Ratnam Garu and his brother  Satyam Garu first started the pen industry here in 1932.
In 1921, KV Ratnam made a Lithoblock (for jewelry related ) for the Father of the Nation Mahatma Gandhi and went to Wardha with Ex-Minister Kalavenkatravu Garu and presented it to Gandhiji. Gandhiji Said is going to boycott foreign goods soon and asked to Focus on the manufacture of domestic goods.
When asked what materials should be made, Gandhiji said that anything from pins to pens can be made and that should be completely swadeshi.
Ratnam Garu decided to make Pens.
In 1931 at that time Rajahmundry Justice Krishnamachari was serving as a sub-judge. German pen Nib which he was using broke. His Close friends described the efforts made by KV Ratnam Garu in Manufacturing pens and Suggested going there. Krishnamachari went to Ratnam's house and showed him the broken Nib. After working hard all day, Ratnam Garu made a new Nib and gave it to Krishnamachari.
He praised Ratnam Garu and told him to start a pens Industry immediately.
He Said, the founders of "The Hindu" magazine, Subbarao Panthulu Garu Shastipurthi program is going to take place and asked Ratnam Garu to make two pens as a gift to the chiefs, As journalists and other elders were attending the event.
He immediately made Sliver Ink Pens with gold Nib and presented them.
The Guest over there who saw the pens wanted similar pens and made Pressure to make the pens.
That was the first step where Ratnam Pens Industry Started in 1932.
The Pen which was Prepared for Subbarao Panthulu was two Rupees at that time.
KV Ratnam and his Brother Satyam Garu founded the First Swadeshi Pens industry in 1932.
In the year 1935,  Former All India Rural Industries Federation President Sri J. C. Kumarappa Garu came to Rajahmundry. Ratnam brothers have worked hard for two days and give two pens to Him and asked him to give one Pen to Gandhiji.
On July 16, 1935, Ratnam received a letter from Gandhi Gari in Wardha stating,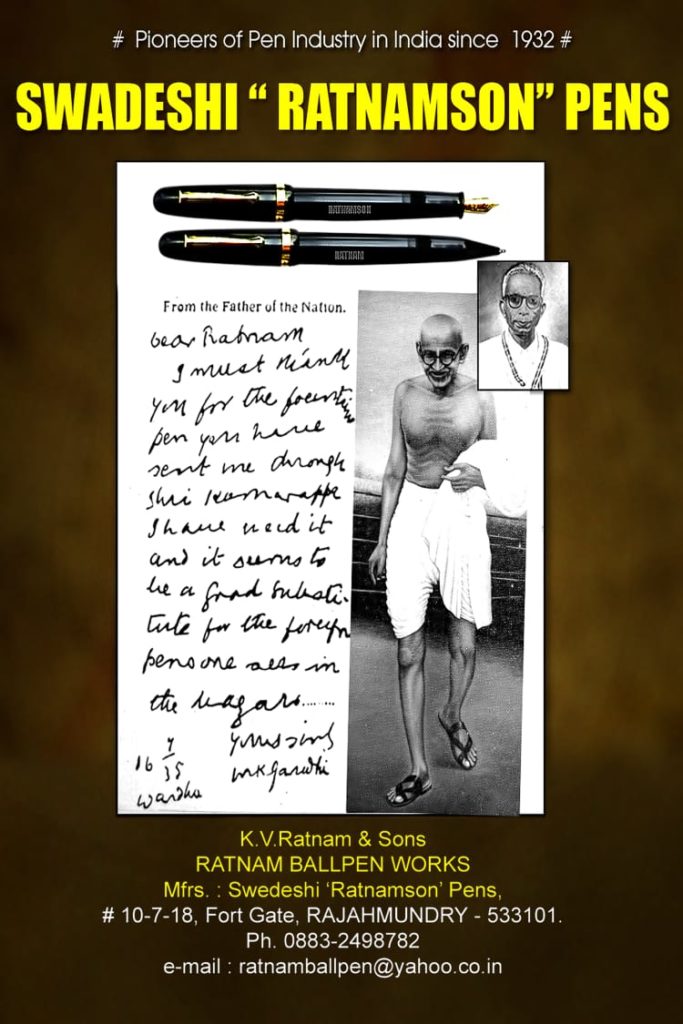 "Dear Ratnam, I must thank you for the fountain pen you sent me… I have needed it and it seems to be a good substitute to the foreign pen, once in the bazaar. Yours sincerely, M.K. Gandhi, 16.7.1935" News came out that Gandhi was using a pen made in the Ratnam Pens industry and it spread all over the country at once. Thus Ratnam pens came to be known as the Swadeshi pens.
Not only Gandhi Garu but many freedom fighters and celebrities have used Ratnam pens. The first President of India, Dr. Rajendra Prasad, signed his oath with this pen. From then Till now present President of India Ram Nath Kovind Garu are using Ratnam Pens.
Not only that, from the country's first Prime Minister Jawaharlal Nehru Garu to Present Prime Minister Narendra Modi Garu, they have signed with Ratnam Pen to take the oath of office.
Not only in our country but also in foreign countries, there are people who have used Ratnam's pens. Former Russian President Balkanian Kruchev, Former US President Eisenhower to Germany Chancellor Urban Non and other celebrities Used Ratnam's pens.
Ratnam Pen Industry received many awards and also registered in the India Book of Records in 2012, also won the award in the Everest World in 2014.
Many Prime Ministers, Presidents, Chief Ministers, Ministers, Highcourt Judges, Celebrities, Businessmen, etc. have used Ratnam pens and are still using them.
This pen also participated in the Indian independence movement.
If u want to buy Swadeshi Ratnam Ink or Ball pens, this is only officai webiste for Buying Ratnam Pens.
whatsapp me On this Number 8686868596, for Orders and Shipping.
Ratnam Pens FAQ
How do I get Ratnam pens?
It's only available through an Offline shop at Rajamundry, here is the address
Address: House no: 10-7-18 Ratnam Nivas Rangareezpeta, Rajahmundry, Andhra Pradesh 533101
They Do have Courier Facility, Contact number 8686868596
Which brand fountain pen is the best?
Parker, Lamy Safari, Asvine Matte Black Forest Fountain Pen, Waterman Hemisphere CT Fountain Pen and Ratnam Fountain Pen
Who is invented pen in India?
Though Milton Reynolds, an American entrepreneur introduced the ballpoint pen in India in 1947,
But in India, Its Ratnam pens, are the first swadeshi pen makers in India.
What is the smoothest writing fountain pen?
They are so many like Parker and Lamy Safari, but up to me its Ratnam Fountain Pen, you should definitely give it a Try
Which is the best fountain pen in India?
They are so many like Asvine Matte Black Forest Fountain Pen, Parker and Lamy Safari, but up to me its Ratnam Fountain Pen which is the best, you should definitely give it a Try
Ratnam pens online shopping, website and price list for Ratnam Pens?
check here https://seosiddhi.com/ratnam-pens/